Bathroom lighting is an integral part of every home, and at Lighting Inc. in Texas, we're proud to offer the latest trends and styles in our showrooms. If you've been thinking about updating your bathroom lights, then we hope that you'll visit one of our locations and see what we have in stock. You may not have an idea of which fixtures you need, but after speaking with one of our certified lighting experts, you'll come away with an amazing design.
Which Bathrooms Will You Update?
Before you begin shopping for new lighting, it's important to consider which bathrooms you'll be updating. Are you focusing only on the master bathroom, or will you be adding new lights to the guest baths and the powder room? If nothing else, knowing how many bathrooms you'll be updating can help you budget for your new fixtures.
No matter how many rooms will be getting new lights, it's good to think about the styles you want for each space. Does your master bath currently have traditional fixtures that are beginning to look a bit outdated? Are you looking for Mid-Century Modern lights that will make the bathroom feel like new? Our team can help you narrow down your style choices, and they'll gladly answer any questions you have about a particular brand or manufacturer.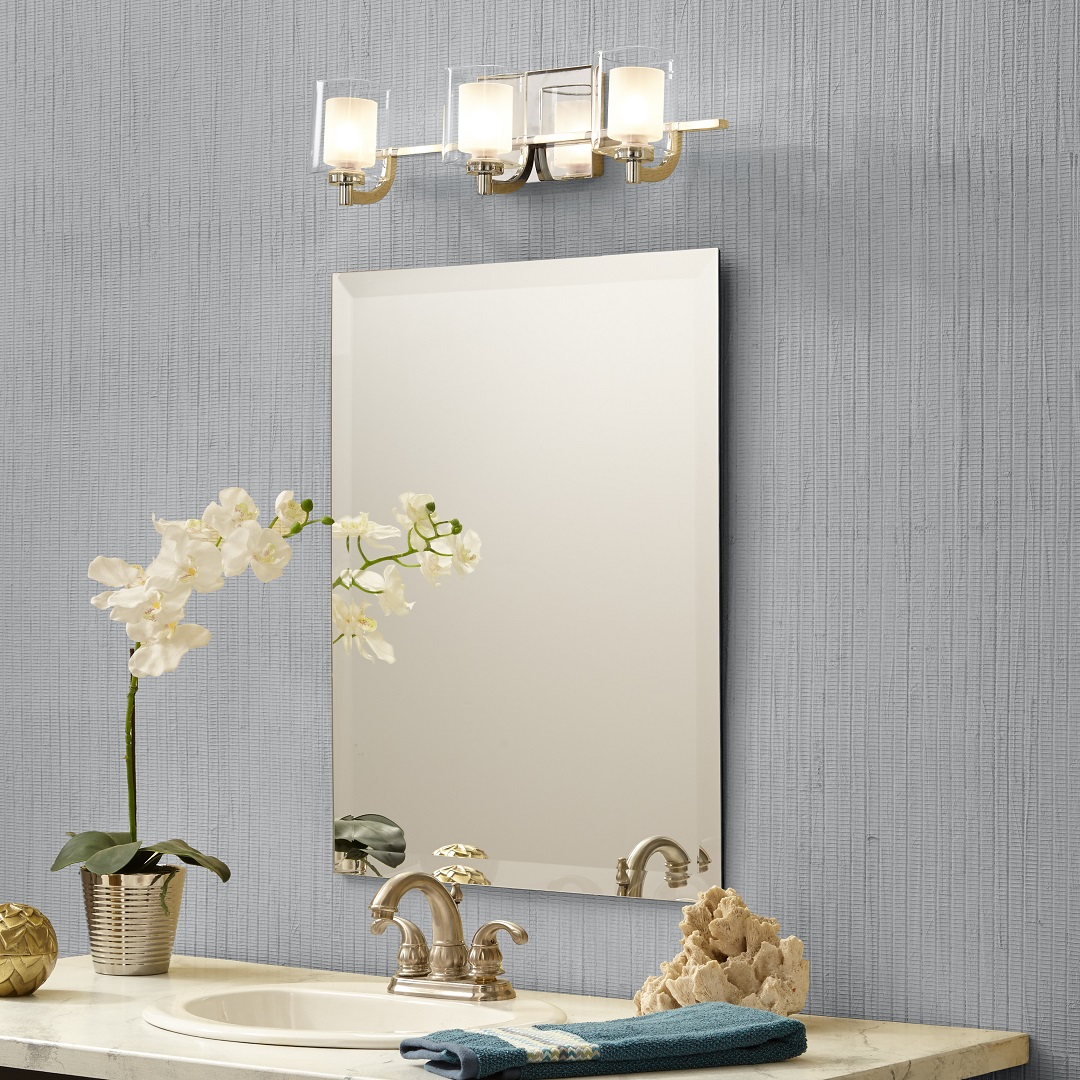 Lighting for Each Area
Every bathroom has a sink and a mirror, so starting with the vanity can be the easiest way to go. Instead of the traditional multi-light fixture above the sink, think about installing wall sconces on either side of the mirror. This can eliminate unwanted lines and shadows on your face when you're shaving or putting on makeup in the morning.
When dealing with a master bath, you're likely going to have a separate shower and bathtub area. These spaces often benefit the most from recessed lighting, since you don't want to have a fixture hanging from the ceiling. You'll also want to make sure that these recessed lights are on their own switch or controls.
For the toilet area, a single recessed light can suffice, but it all depends on where the toilet is located. If it's in its own space, such as a water closet, then recessed lighting is probably better, since a hanging light can cast strange shadows in the small space. If you're updating a powder room and the toilet is situated in the corner, then the main ceiling fixture should provide enough illumination.
Speaking of the main ceiling fixture, this is where you can truly be creative. Bathrooms today are often designed to be luxurious, spa-like spaces, instead of the simple, utilitarian spaces of 10 to 20 years ago. A small chandelier can be perfect for your master bath or guest bath, as it will add that touch of elegance that you've always wanted. Semi-flush and flush-mount lights can also be good choices, as long as they fit the design vision you have for the bathroom.
Find New Bathroom Lights Now
If bathroom lighting has been on your mind for several months, then visit one of our Texas showrooms today and let us help you find the perfect options. We carry a number of outstanding styles from the world's leading brands, including Quoizel, Hinkley, and Kichler. It doesn't matter if you're looking for a single vanity light, a few wall sconces, or multiple recessed lights, we can provide you with fixtures that you'll love using for years to come. We can also help you choose new switches and controls that will make any bathroom more versatile, more functional, and more comfortable.
We look forward to seeing you soon!